BBC News London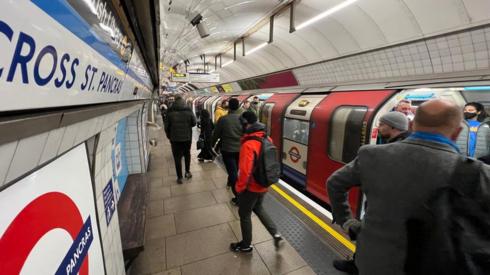 Top Stories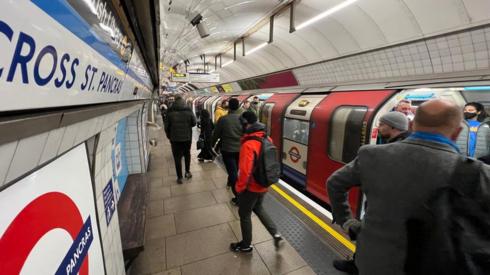 Featured Contents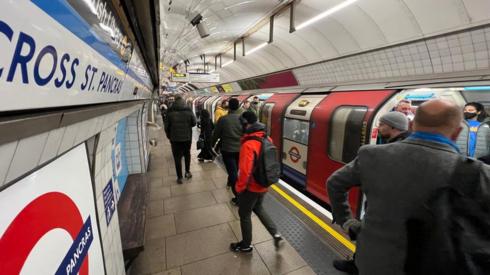 Latest Updates
By Tom Symonds

Home Affairs correspondent

By Ione Wells

Westminster correspondent

That's it for Friday's coverage of London's most widespread strike action in three years.

You can read the full story here.

We'll have more coverage across the weekend as the Night Tube's resumption is affected by further walkouts on Saturday.

Oh, and yes, some of us will be tackling the Tube on the journey home.

Attention turns to the weekend and Sunday's planned resumption of the Night Tube, on the Central and Victoria lines, which is also due to be disrupted.

Another walkout from 20:30 GMT on Saturday means that passengers planning to take their first Night Tube since March 2020 will have to wait a little longer.

Six London Underground lines have been halted by the city's most widespread strike action since 2018.

Friday's industrial action by the RMT union meant that only 60% of services were able to run, according to Transport for London (TfL).

Three of the lines affected were suspended during various parts of the day with others unable to maintain the frequency of service expected, even with reduced numbers of post-lockdown commuters.

This is the first in a series of walkouts with no indication that talks between TfL and the RMT are due to take place.

Brixton Academy warns of disruption for The Courteeners gig

One of London's most iconic venues has warned gig-goers to check travel routes before attending.

Brixton Academy hosts Manchester rock band The Courteeners this evening.

But the nearest tube station, Brixton, is facing a disrupted service until 04.30 GMT on Saturday due to the RMT walkout on the Victoria line.

The venue is accessible by several bus routes and via Northern line trains, which are also facing disruption.

How does today's strike compare to previous ones?

Tom Edwards

Transport Correspondent, BBC London

Image caption: A picture of a strike from 2012

This isn't a full strike across all unions and all lines – it affected six and involved only RMT drivers.

That means the impact isn't as much as in some of the full-scale strikes we have seen previously.

You can also factor in the lower levels of passengers anyway and the fact working from home on a Friday seems to be the new norm for many.

However, the strike took out 40% of services and the RMT union will regard that as a significant in getting their message across.

Seven more strikes are planned so you'd hope there will be talks on Monday.

Tube strike should be a 'wake up call' for bosses

Thomas Mackintosh

BBC London News

Copyright: BBC/Helen Wicks

The RMT Union's John Leach has been speaking to BBC London at one of its picket lines in Stratford, east London.

He said: ""I hope TfL and the Mayor of London recognise why these fantastic men and women, who kept London moving through the pandemic, have gone on strike.

"This should be a wake-up call for them."

Another strike is planned tomorrow – intended to hit the relaunch of the Night Tube

Mayor must face down unions to keep Night Tube

The mayor of London must "face down" the unions in order to get the Night Tube working, a conservative assembly member has said.

Emma Best, a Conservative London Assembly Member, called the RMT's walkout on the London Underground "an unwarranted attack on London's commuters and visitors by a deluded trade union".

Ms Best, who has previously campaigned for the Nigh Tube to reopen to improve women's safety, said: "Disrupting Londoners' lives and wrecking the return of London's much-needed Night Tube will achieve nothing.

"Transport for London is only asking drivers to do four shifts a year on the Night Tube to provide Londoners with a safe route home at night. Other trade unions have already agreed to the change.

"The Mayor personally assured me in the London Assembly that he would resolve this dispute so the Night Tube could reopen tomorrow.

"He must stand up for Londoners, face down the RMT union, and ensure the Night Tube reopens in full as soon as possible."

RMT union hits back at Sadiq Khan's tweets

Thomas Mackintosh

BBC London News

Travel update: Piccadilly line completely shut

Thomas Mackintosh

BBC London News

The Piccadilly Line is now completely suspended after running a limited service earlier today.

Limited services continue on the Victoria, Northern, Jubilee, Hammersmith and City and Central lines.

Of the services that are running, the Circle and Hammersmith & City lines both continue to face severe delays due to cancellations.

Tube strike has been good for cab business

There's a queue of around 40 people at the taxi tank outside Liverpool Street Station - many with wheelie suitcases.

Two people collecting money for charity in a bucket are doing their best to cheer everyone up, singing Christmas carols.

The roads have more traffic on them too.

Paul Kirby, a Hackney Cab Driver says it's busier than normal at all the stations he has been to today.

"Every station has been busier this morning," he said. It's like old times."

"The strike is good for business, but it's not what we want."

Queues at Liverpool Street

Would-be Tube users are queuing in long lines at Liverpool Street Station due to the strike, which has closed six lines.

Copyright: @mummysboyfraser

London First, which campaigns on behalf of London businesses, has branded the industrial action "disgraceful".

CEO John Dickie said: "The RMT going out on strike at such a critical moment in TfL's funding negotiations is disgraceful.

"In the run-up to Christmas, as London's businesses and Londoners try to recover from the pandemic, it is also self-indulgent.

"The RMT needs to get a grip: keeping London moving now is critical."

'Great morale' at Acton picket line

Tough weeks ahead for TfL

Thomas Mackintosh

BBC London News

Transport for London (TfL) faces a challenging couple of weeks in the lead up to Christmas.

Today is the first of seven separate planned dates of strike action, but it also faces concerns over its finances.

Since May 2020, TfL has had three government bailouts - to the tune of over £4bn. There have been repeated rows over funding for TfL and the cause of its financial crisis.

Its current emergency funding deal expires on 11 December and the Mayor of London Sadiq Khan has warned that transport services, including buses and the Tube, could be cut without more government help.

Discussions between TfL and the Department for Transport are continuing.

Women's safety: 'Night Tube important after Sarah Everard murder'

RMT boss joins workers on picket line in Stratford

In cold and blustery in Stratford - striking Tube drivers shift from foot to foot and rub cold hands together for warmth.

A faint rainbow curved over them when I first arrived. They have been here with the RMT boss John Leach since 05:00 GMT this morning.

Mr Leach told me that his members had worked hard through the pandemic to move Londoners around the city.

The decision to strike was not an easy one in the circumstances - but when TfL "ripped up our agreement in front of the very eyes of our members", they had to act.