Major backlogs in processing patient data during the pandemic are forcing the healthcare sector to reassess its relationship with fax machines.
A
As coronavirus cases surged in the city of Austin, Texas, last June, beleaguered public health officials instructed anyone with symptoms to act as though they had Covid-19. The reporting and tracing of new cases had slowed to a crawl, officials explained, partly due to an unexpected culprit: the fax machine.
The machines had kicked into overdrive as the pandemic tightened its grip on the city, spitting out printout after printout of results from Covid-19 tests. "We were probably getting thousands of cases a day that we were responding to. It was madness," says Janet Pichette, the chief epidemiologist for Austin Public Health. "You cannot fight a pandemic using 19th-Century technology."  
More than a dozen staff combed through the stacks of printed facsimiles that at times piled up to 18cm (7 inches) thick, tasked with weeding out duplicates and tracking down any missing information. From there the results were manually entered into the city's tracking system.
Similar scenes were playing out around the world, highlighting the persistence of traditional fax machines in sectors such as healthcare, financial services and real estate, despite the global uptake of email, instant messaging and cloud computing. The inefficient sharing of data has left a growing number of governments promising to finally abandon their use of fax machines. More than 175 years after the technology was first patented and decades after it peaked as a must-have tool for businesses, could the coronavirus pandemic consign the fax machine to history?
You might also like:
The Ministry of Health in the Netherlands hopes so. In May it proposed legislation to parliament that would swap fax machines and DVDs for electronic formats in a bid to modernise how patient data is stored and accessed.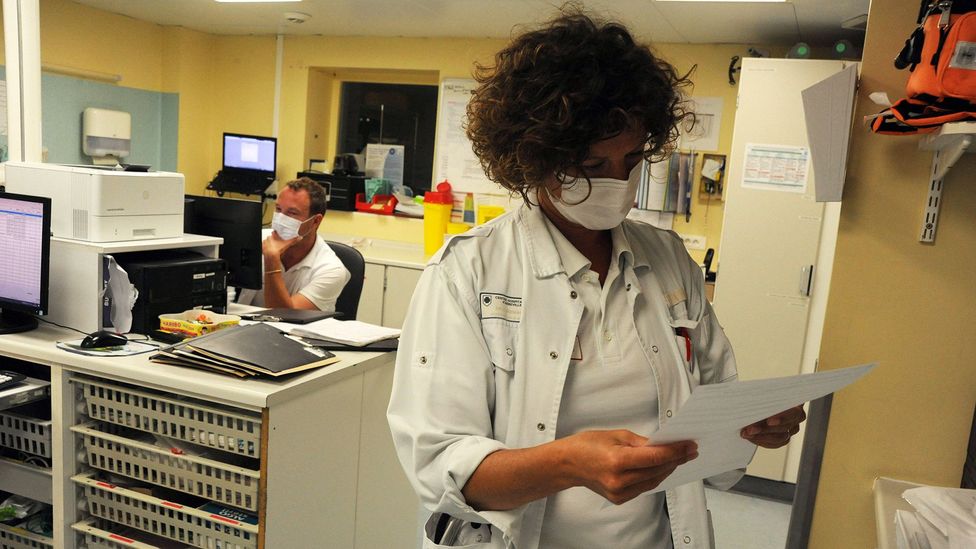 Many hospitals still rely on faxes to share patient records and test results despite the use of modern internet services in other sectors (Credit: Pascal Bachelet/BSIP/Alamy)
"It's really ridiculous that we actually still have fax machines, to be honest," says Monica Schagen, a policy advisor with the ministry and registered nurse.
But in some sectors, such as in healthcare, the fax machine has stubbornly clung on as way of sharing paper health records, test results and documents. Fax isn't the only outdated technology used in hospitals – doctors rely heavily on pagers to respond to medical emergencies.
In the Netherlands, the need for change was clear during the pandemic. As hospital admissions soared, healthcare workers lost valuable time tracking down patient records and test results. The Dutch healthcare sector has long grappled with the fact that the fax machine is almost obsolete in mainstream society, but vital to running a hospital.
"One of the first things that we teach our nursing students is how to use the fax machine," says Schagen. "Because it all comes together at the same time; you have a patient or two in the operating theatre, patients that are going for medical examinations at different departments and patients that need to be discharged and you're trying to remember how the fax machine works." 
There was a complete backlog of busy signals and they just couldn't handle the capacity that came in through Covid – Kathryn Brohman
It's a paradox echoed across sectors such as real estate and financial services, where fax machines continue to whirl away despite being shunned by many as an archaic technology.
Others have remained loyal to the machine but updated it for the modern age, adopting technology that allows faxes to be sent and received in electronic formats.
"Society is amazingly complacent," says Kathryn Brohman, an associate professor at Queen's University in Kingston, Canada. "You think about inertia, always doing it the same way, and every doctor's office had a fax machine and every pharmacy had a fax machine and the infrastructure was all there.
"It's the whole idea of 'If it's not broken, why fix it?'. But it broke in Covid."
She points to the Canadian province of New Brunswick, where a bottleneck of around 1,500 faxes reportedly left residents waiting days to find out if they had tested positive for Covid-19. "Fax machines don't scale. It's either the line is open or not," she says. "There was a complete backlog of busy signals and they just couldn't handle the capacity that came in through Covid."
Months earlier fax machines had also come under fire in Toronto, blamed by public health officials for significant delays in the processing and reporting of results. The response was a new system, unveiled earlier this year, that slashed the number of laboratory results received via fax to around 10% of the total, says Vinita Dubey, a spokesperson for Toronto Public Health.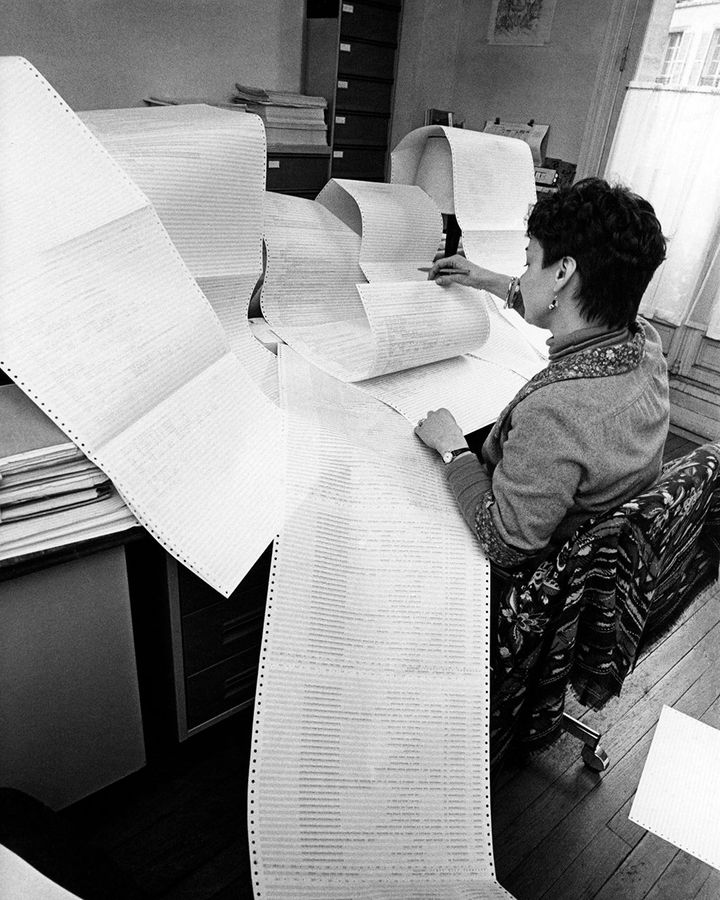 While fax machines allowed users to send documents over long distances, they could also produce large amounts of paper work (Credit: Richard Frieman-Phelps/Getty Images)
The history of fax
The fax machine dates back to 1842 when Scottish inventor Alexander Bain created and patented a device that could scan a message written with special ink on a metallic surface and transmit it at a distance, using a telegraph circuit. 
None of Bain's machines were particularly successful. It was Italian priest and inventor Giovanni Caselli who in 1863 built the first commercial fax machine, which was first used in France. 
By the early 20th Century, fax machines were prized by several professions, including the military who used it to rapidly send maps and charts to and from aircraft, and newspapers, which used them to send photographs for urgent publication.  
The Japanese popularised the technology in the 1970s, making it a must-have tool for businesses. By the end of the 20th Century, fax machines had become ubiquitous due to their reliable and quick transmission of information. 
By 2000, fax's role in business was declining as companies switched to email and the internet to share information. But in other sectors, such as healthcare and real estate, the fax machine has stubbornly clung on. 
Similar efforts are underway in Japan, where the government promised to do away with fax machines after a doctor vented his frustration over the convention of faxing handwritten medical reports to public health officials. "Come on, let's stop this already," the doctor wrote on Twitter. "Even with the coronavirus, we're writing by hand and faxing." Recent reports suggest little has changed.
The movement isn't just limited to the healthcare sector. Public offices in Greece this year began cutting the cord on their fax machines, after the pandemic reinforced the need to digitise the public sector. "The Covid pandemic is causing more people to work from home, so much of the physical contact had to be eliminated," says Nikos Vettas, the director of the Athens-based Foundation for Economic and Industrial Research.
While the fax machine's shortcomings may make it an easy target, its purging may not be enough to address the technological issues seen during the pandemic, says Jonathan Coopersmith, a professor at Texas A&M University and author of the 2015 book "Faxed: The Rise and Fall of the Fax Machine".
"The fax machine is being used as a scapegoat, as a way of saying look at how screwed up things are," he says. "It's easy to say let's get rid of these machines. It's harder to figure out why are we still using them. But that's the real question that should be asked – why are people still doing this?"
The answer likely lies with competing systems that are expensive, difficult to use or which are incompatible with other reporting systems, he says.
Unlike computer software, the fax machine is seen as extremely secure and difficult to hack. "Your fax machine cannot be intercepted. As opposed to when you're sending something over the internet, unless you're encrypting it - how much security do you really have on sending that information?" says Coopersmith.
It's also relatively easy to use and senders receive a confirmation of receipt, making it a convenient choice for those looking for a legal footprint that can stand up in court, says Brohman.
"[The fax] has proven much more resilient than I would have predicted back in 2015. And that reflects weaknesses with the theoretically superior competition," says Coopersmith.
Coopersmith points to the example of Britain, where the country's health secretary banned the National Health Service (NHS) from buying fax machines, starting in 2019, with the aim of completely phasing out the technology in the service by April 2020. "The question he should have been asking was 'why are they still being used? What makes them so useful if we've got this other stuff?'" he says. NHS England did not reply to a query regarding whether fax machines continue to be used.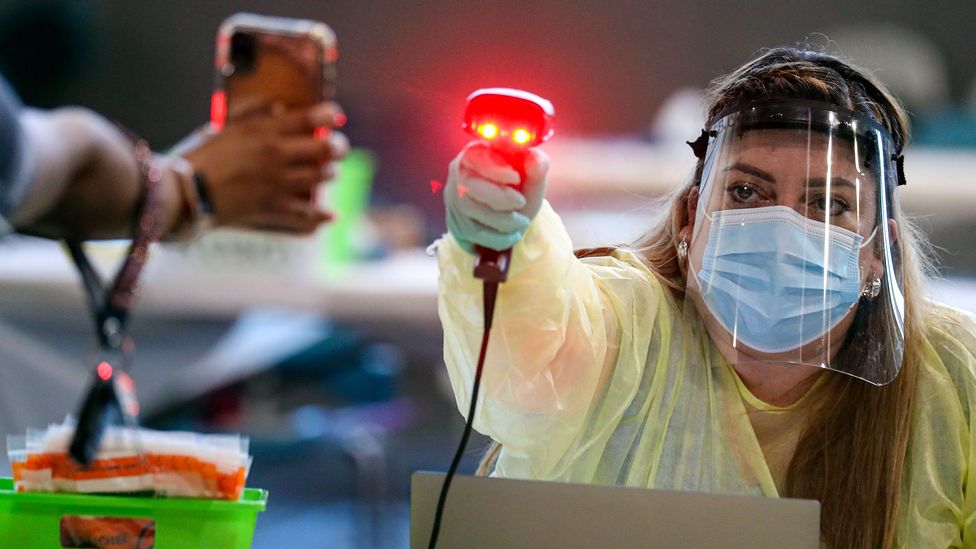 Technology such as mobile phone apps and digital scanners have helped to make Covid-19 testing more efficient during the pandemic (Credit: Irfan Khan/LA Times/Getty Images)
In Austin, last year's deluge of faxes led officials to tweak the system so that faxes are now received in an electronic format. "When we started getting massive amounts of files, we immediately recognised there has got to be a better way here," says Pichette, the chief epidemiologist.
While the ordeal highlighted the need to improve public health technology infrastructure, she isn't convinced that the pandemic will result in the end of the fax machine. "I see that it will continue to have somewhat of a role just because old habits are hard to break. And in some cases I don't know what the better solution is," says Pichette, noting that ideally a system would exist that allowed everyone from school clinics to laboratories to transfer information seamlessly, electronically and in an encrypted format to public health officials.  
"But whether that will happen while I'm still working at this health department, I don't know," she says. "In the meantime, faxes keep coming in."  
-- 
Join one million Future fans by liking us on Facebook, or follow us on Twitter or Instagram.
If you liked this story, sign up for the weekly bbc.com features newsletter, called "The Essential List". A handpicked selection of stories from BBC Future, Culture, Worklife, and Travel, delivered to your inbox every Friday.